Brunel Swivel Bridge Project 2018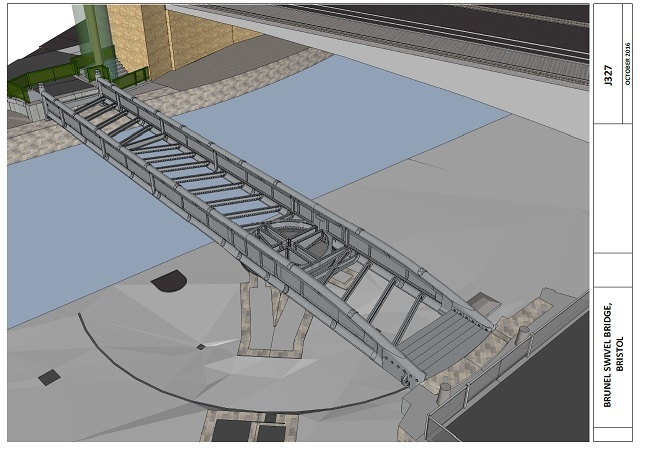 Investigative work on the rotation of the bridge 2018
Page contents
Our aim this year is to complete the repair of the turntable mechanism to a condition in which it can again turn for trial-turning to be carried out. Our planned work is:
Continue with visitor surveying.
Refit the SW wheel and its new bearings.
Skim down the circumference of two wheels. (Two have already been remedied)
Dress the wrought iron track under the moving structure to remove as much rust as possible.
Make, deliver and fit a new steel-plate track under the existing one to provide a smooth running surface.
Lower the deck back onto its turntable.
Carry out turning trials and torque-tests.
Rub-down and paint the outside of the little shed adjacent Brunel's Lock.
Continue with general tidying, controlling weeds, removing litter, etc.
This is an ambitious target for 2018, so we need lots of help! Engineering experience is not essential as there is a wide range of tasks to carry out.
The track is an enormous wrought iron forging (about 14 ft diameter) probably made by rolling to a circle which must have been joined by fire-welding, ie, both ends being heated to bright-white heat and hammered together. Excitingly we believe we have located the joint, evidenced by diagonal lines in the working face. The forging is a complicated shape, remarkably accurate and a real tribute to the craftsmen who made it in 1849. We couldn't match this quality of manual forging nowadays.
It is an amazing example of heavy forge-work which should be preserved for future generations.
We plan to work one day per month, with extra days as necessary to maintain progress. We meet on the third or fourth Saturday in each month, as follows:
Feb 17th.
March 31st.
April 21st.
May 26th,
June 23rd.
July 21st.
August 18th.
September 15th. Doors Open Day.
Sounds like fun? No experience needed, all equipment provided, and you'll get really involved in helping to save Brunel's Other Bridge. We need your help.
Contact Geoff Wallis (jandgwallis@gmail.com) if you wish to help. We need to have an idea of numbers.
As you know, the Bridge is listed Grade 2* and is on Historic England (formerly English Heritage) Buildings at Risk Register. Whilst their funding is severely restricted, HE have been supportive in providing modest grants to carry out trials and erect a temporary roof, which were completed by Bristol City and Avon Industrial Buildings Trust with volunteer help last year.
EH/HE were impressed with the Mann Williams (MW) report that resulted from the grant-funded work that we managed on behalf of the council in 2015 and suggested that we discuss an application for further investigative work on critical areas identified in the report as part of this year's Heritage at Risk programme. They also suggested that we might request further assistance in other areas via their consultancy budget and service.
8 April 2017 The funding period for this project on the Coop Local Community Fund finished.
We have been awarded a total of £2,135.16
We were one of more than 4,000 causes across the UK who have benefited from the Local Community Fund and are making a difference in their communities.
3 March 2017: I am pleased to tell you that the Trustees of the Bristol Visual and Environmental Buildings Trust have now visited the Bridge on the last work day. Their report and observations have been most helpful.
The Trust has agreed to contribute the sum of £4,000 as match funding to Historic England's grant.
January 2017: £19,000 by Historic England for work to allow the deck to be rotated to establish what forces will be needed to turn it after it is fully restored.
January 2017 £25,000 by Bristol City's Central, Clifton and Harbourside Neighbourhood Partnership as match-funding for lottery funding
Contracts will be let by the Avon Industrial Buildings Trust and supervised by their Technical team, comprising Bob Watkins and Geoff Wallis.
We want to thank Bristol City Council, English Heritage, the local amenity societies, our faithful hard-working volunteers, and huge number of supporters for getting the Project this far.
The big challenge lays ahead in securing major funding. We have a well-specified and costed scheme for repair which will form a sound basis for fund-raising.
You can make a donation by
The main donation link is: https://mydonate.bt.com/charities/brunelsswivelbridge.
We have created a project on http://www.neighbourly.com to also help us fund raise for our HLF bid
or you can send a cheque payable to
Avon Industrial Buildings Trust to:
The Treasurer, Thatched Wells, Duckhole, Thornbury, BS35 1LD.
Leaflet giving information, asking for support and how to make a donation
Our first workday of 2018 is on Saturday 17th Feb. when we have lots of interesting tasks to carry out.
Sal is away, so we need a volunteer to continue her survey of members of the public crossing the site, for which a sheet is available to fill in.
The south-west wheel and its shiny new bronze bearings are complete and ready to refit, so we need to erect our gantry, hoist the wheel from its delivery-vehicle, raise it to deck-level, trundle it to the center of the Bridge and lower it into place. Then the next wheel needs to be hoisted out and loaded so that it can go to a local machinist for skimming. They are waiting for it, so we need to extract it asap. We are getting quite slick at doing this, but we need YOUR help as many hands make light work.
If anyone prefers to paint, (or if too many vols arrive) the Dock Engineer has given us permission to repaint the outside of the little white shed, so all DIY-ers are welcome.
Finally, spring is nearly upon us and the vegetation has started growing, so gardeners are welcome to clear weeds, grass, moss etc, and generally tidy up.
As always we meet at 10.00am at the Bridge. Plenty of parking space and basic toilets are available. Please wear stout footwear, and if wrestling with the wheel you might like to bring overalls, gloves and something to kneel on. Also, it can be chilly next to the river in February so please wrap up well. We have gloves, high-vis vest and a helmet you can borrow.
Bob W, David F, Maggie S, Geoff W and new expert volunteer Julian Beel enjoyed working together in lovely February sun, videoed by our professional-standard media-man Julian.
Our first aim was to install the newly machined 300 Kg.wheel delivered to site in Geoff's long-suffering down-at-the rear estate car. We did this with ease, using our shiny new steel gantry which sits over each wheel-position and provides a 'sky hook' for us to hoist from.
Our new young volunteer Bradley helped operate the chain hoist, spread grease on the bearings for protection and other tasks, supervised by mum Anne. Thank you guys, your help was appreciated. You'll make a great engineer one day Bradley!
We then turned our attention to the south east wheel which wasn't so easy to extract as the headroom is lower. We had to do a 'fox-trot' move by lifting the wheel, rotating it laterally, moving it sideways, and then lifting it out. Fortunately there was about 10mm to spare, but it was fiddly working under the bridge.
We have become experts now at moving the wheels along the deck on their frames using rollers, and can even go up and down a step.
Bob, David and Geoff had a think about how to strengthen the severely corroded beams that carry the weight of the deck above the turntable.
We decided that a series of oak 'pit-props' was the best solution, tightened by folding wedges. Finally we laid down under the structure, and brainstormed a way of centralizing the deck using new bronze bearing blocks, so now we have lots of work to get on with this year. Come and help us!'
Photos of Progress in February 2018
Look at the reports page to see the summaries of the results of inspections of the bridge. Updated 11 January 2016
---