You can make a donation by
The main donation link is: https://mydonate.bt.com/charities/brunelsswivelbridge.
We have also created a project on http://www.neighbourly.com to also help us fund raise for our HLF bid
or you can send a cheque payable to
Avon Industrial Buildings Trust to:
The Treasurer,
24, The Bluebells, Bradley Stoke, Bristol BS32 8BE
Funding news is to be found on the project pages for each year
Coop Community Fund
21 Sept 2016: The Brunel Swivel Bridge has been selected to receive funding from the Co-op Local Community Fund. It means that we will get a contribution towards restoring the bridge. But we need your help. The more support we get, the more funding we could receive. So if you're a Co-op Member log in to your Co-op Membership account and choose us. If you're not a member, please join and support us!
https://causes.coop.co.uk/promotional-guide for more details
Every time members choose Co-op branded products and services and use their Co-op Membership card (subject to Membership T&Cs) 1% of what they spend will go to their chosen cause. You can now see the cause profile on the Coop membership website.
https://membership.coop.co.uk/causes/1505
Leaflet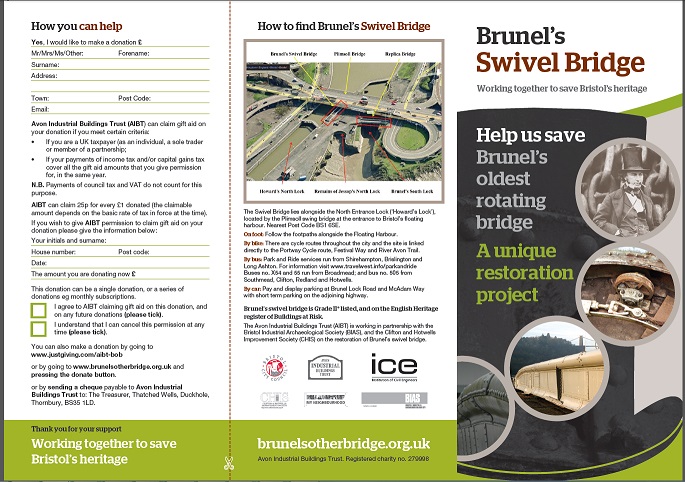 Swivel Bridge Leaflet. Leaflet gives information, asks for support and how to make a donation
Letters of Support
---