Brunel Swivel Bridge Project Photos April 2015
This month it was all about surveying and continuing to erect a temporary shelter over the turntable. We were at an industrial archaeological conference at Tiverton on Saturday spreading the word.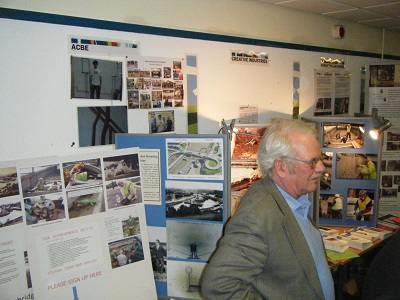 Page contents
Shelter and surveying. Lots of sun, teamwork and volunteers. What more could anyone ask for?

Goff, Mike and Graham getting the timbers ready

Aerial shot showing the surveyors turned up too (no less than 5)! and we also ended up with 7 volunteers for the hut

New engineer volunteer Katerina came to help with the surveying. Bob telling her what was needed,
Tom and Martyn also helping. They were making detailed notes of the state of the bridge.

Mike, Geoff, Duncan and Graham getting on with the beams

And then there were six helping with the hut. Reece (on the left), a Civil Engineer undergraduate
from the University of Bristol came to help too.

Mike showing Reece how to use the drill

A hive of activity

Reece had a good eye for the drill

Room to stand between each beam

Aodhan, another Civil Engineer undergraduate from the University of Bristol came to help with the surveying too.

Bob found another very clear Coalbrookdale stamp

Ed Plowden (Council Service Manager Sustainable Transport) came to see us on his way home from
the Big Bike Ride up on the Downs. He was interested in what we were up to
---