Brunel Swivel Bridge Project Photos April 2016
Page contents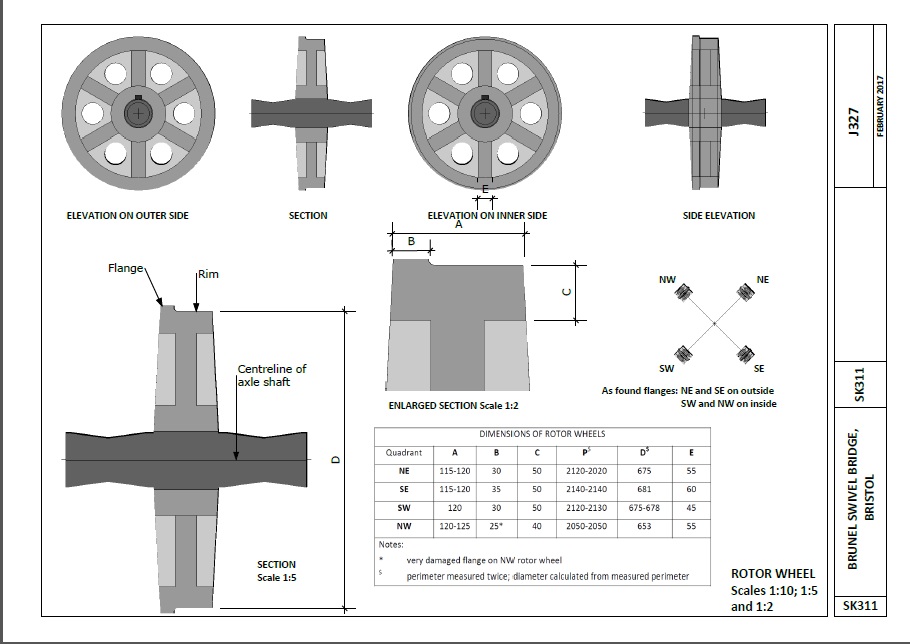 turntable rotor wheel dimensions
First volunteer day of the year spent tidying up, continuing with renewal of timber stops, measuring the turntable rotor wheels and checking tie-rods and cast iron end fittings.
It is reassuring to see the relatively good condition of the tie-rods and cast iron end fittings, and if they are all like this we probably will be able to extract one or more wedge and re-tension the tie-rod on the south side. It appears from these that at least the end tie is in fair condition as is the internal surface of the iron – as far as we can see. The photo near the pintle support appears to show that we have one quite thick tie and a second thinner tie immediately alongside it. This probably corresponds in sectional area to three of the single ties.
The diameter of the turntable rotor wheels was calculated from the dimension around the perimeter, measured a couple of times with a thin flexible wire wrapped around the circumference of the rim.

looking at the end of the last tie near the cantilever end of the bridge

end of the last tie near the cantilever end of the bridge

shows the condition of the internal surface nearby

looking up at the ties near the pintle support

Bob working with new volunteer Victoria a civil engineer student from UWE
measuring the turntable rotor wheels

Bob and Victoria looking at the tie rods
Timber Stop (involved more and more people as the day progressed)

We came to add the support to the stop Graham had made in 2015

to our surprise on digging the hole for the support we found a stud with a
nut and washer that undid easily

new volunteer David finding bits of clay pipe and Reece using the post hole digger

Mike, Ian and Geoff lifted out Graham's stop

Geoff making adjustments, the new support standing by

Mike, Ian, Geoff, David, Bob, Martyn and Reece all needed to lump these
heavy baulks of timber around

trying to install the support

deep thought

Geoff gets out his trusty drill so the support can go back on the original stud,
being very precise with the level

Bob uses the chisel to make a square hole on the support

ready to put back in the hole

will need further mods in May!
Clear rust from inside holes where plates have been removed
| | |
| --- | --- |
| Sal using a telescopic back scratcher to reach into the the corners | Martyn using a wire brush |
| many beams to clean | Ian grinding the turntable |
Filling the voids in the excavations and laying tarmac

February's excavations had left the path by needing improvement

Martyn, Mike and Sal smoothed the ground and used a tamper

This time it was Sal doing the work and Martin and Mike watching

tarmac laid down

one of the wheel pit drain holes was blocked. There was not much room to get under the wheel
so the trusty back scratcher came in useful to clear out leaves and sediment

The wheel area was swept clear of all the rusty flakes and debris
---