Brunel Swivel Bridge Project Photos May 2014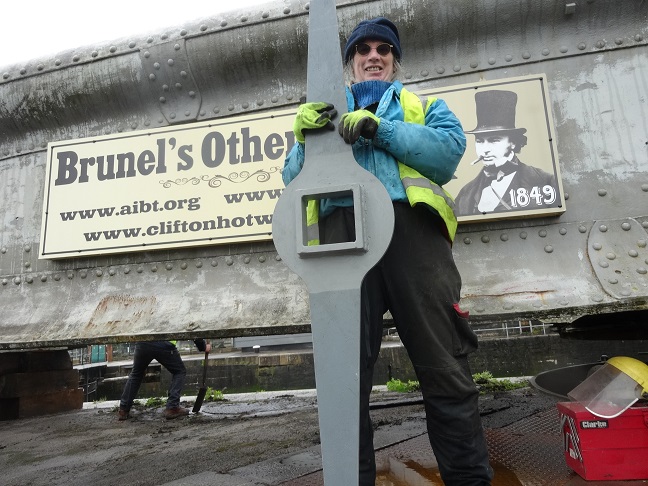 Mostly pondering about the pintle of the Brunel Swivel Bridge this time and using our big spanner for the first time.
Page contents
Cleaning and painting rusty areas
Unbolt and release the centre pintle casting
Jack up Bridge a few inches
Free up north tail wheel
Release two rotation cables
Lower bridge onto its pintle and track
Free the pintle thread, rotate bridge a small amount and return to present position
Locate and obtain copies of drawings and past reports. Write a conservation plan
Seek letters of support
No experience needed, all equipment provided, and you'll get really involved in helping to save Brunel's Other Bridge.
Contact Maggie Shapland (Maggie.shapland@gmail.com) if you wish to help.
Details of progress in 2014 and working days.
| | |
| --- | --- |
| The 2000kg chain hoists are both hooked in position to turn the spanner, Geoff making sure there is no play, Mike getting ready to use one of the hoists. Ian looking on. Heavy rain but our makeshift shelter worked well. | Geoff tries heating from below, but 150 years of muck catches fire and blows down |
| Some white metal drops down | Geoff tries heating from above, aided by Ian Kerr |
| When in doubt get your big hammer out but still no joy | We then turned our attention to getting the pins out of the rope. Heat and large crowbar needed and a big hammer |
| Getting there | Rust on the turntable |
| Having loosened the rope, Mike was able to get the 50 ton jack under the clevis pin | More heat, more hammering |
| Pin finally coming out | Mike holding the pin and sleeve. Probably has never been removed before |
| In the mean time, Ian and Geoff were getting on with the other pin | This pin was even more worn |
| The turntable is rusty | The offending connection. Made a satisfying big bang when the pin was withdrawn |

Geoff worrying about the pintle. Lots of diagrams and measurements around.

He gathers Mike Bone, Mike Taylor and Martyn Hart around to talk it through

We have a group photo and decide to do something else. Big smiles all round

Back to the hydraulic rams

Wheel and rope in position. Note the channels full of water

More heat needed

Wherever we go we all have to work closely together, but there is more space than under the turntable! Note the rusty bolts in the foreground

I think the bolts need replacing

Maggie cleaning the rods

Maggie then went on to clean the channels to try to get the water to drain away

Never ending sea of mud but at least it is fairly loose

Geoff and Martyn moved to another section of the hydraulics and again applied heat and hammers

They got the cam to move
---