Brunel Swivel Bridge Project Photos August 2019
Page contents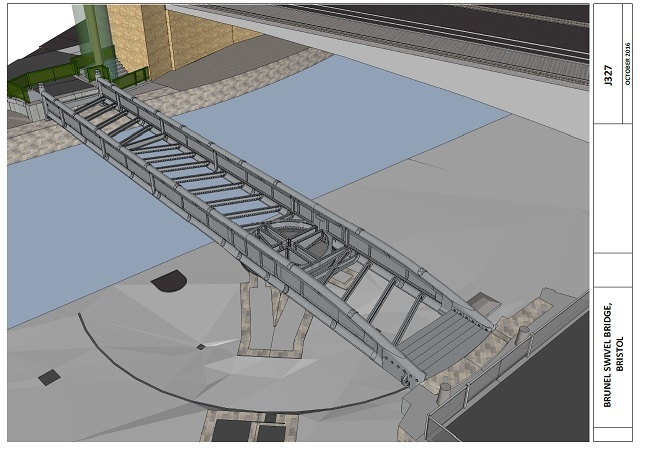 2019 investigative work is on the rotation of the bridge
Investigating the wheels
Rotor Wheels photos
A day of applying Denso tape and paste to the faying surfaces of the old and new turntable rings, and the 3mm packings that lay between them.
Faying surfaces are the contacting surfaces or faces of two similar or dissimilar materials placed in tight contact to form a joint. They are mating surfaces that contain a sealant in between them during any assembly process so that there is no gap or crevice left between them.
They are used in engineering fastening and joint development of different members to form a strong structure. To prevent corrosion between the two surfaces, primers or sealing agents are used to provide an air- or moisture-tight joint. In this case we attaching a corroded wrought iron surface to a new steel ring using aluminium packers.

Vidioer Julian dragging away one of the logs that had helped to lift the kentledge end

Dorothea Julian using the jacks to help remove the log supports

The two Julians and Bob using scaffoling poles and rope to move the log to the log enclosure

Removing supports from the sides

More supports removed. When we started work originally the whole of the bridge from the turntable to the end under the bridge was unsupported
just as it had been since 1964

Bob measuring the height of the bridge at the corner

And the height on the other corner

Robin Whitworth of AIBT came to inspect

Jeff all the way from from Cambridge had come to help

The new turntable ring has been welded to the old ring

Kentledge still lifted a little

All area weeded and tidied up ready for the weekend celebrations of 7th and 8th Sept