Brunel Swivel Bridge Project 2019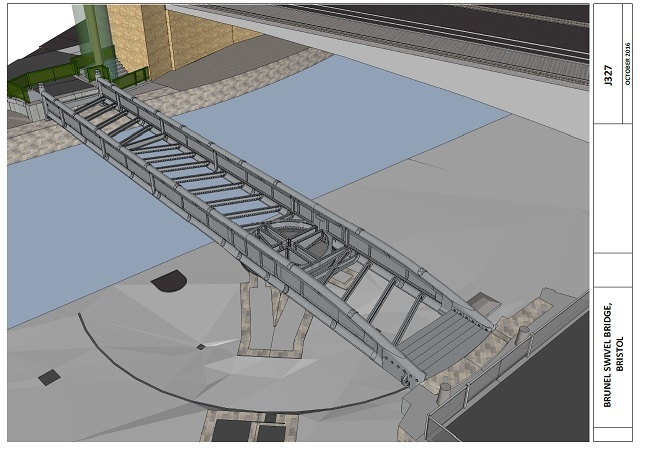 Investigative work on the rotation of the bridge 2018
Page contents
This will be an exciting year in which we hope to have the Bridge turning again, 170 years after it was comnpleted to Brunel's innovative design. We plan to work on Saturdays, but there will be extra work-days as necessary to achieve our aim of trial turning in July. We must complete the levelling of the wheels, purchase and install a new steel-ring track, centralize and lower the whole deck-assembly, and strengthen the corroded structure, so plenty of helpers will be needed and all skills welcome, not only engineering!Our aim this year is to complete the repair of the turntable mechanism to a condition in which it can again turn for trial-turning to be carried out.
Our planned work is:
Continue with visitor surveying.
Dress the wrought iron track under the moving structure to remove as much rust as possible.
Make, deliver and fit a new steel-plate track under the existing one to provide a smooth running surface.
Lower the deck back onto its turntable.
Carry out turning trials and torque-tests.
Rub-down and paint the outside of the little shed adjacent Brunel's Lock.
Continue with general tidying, controlling weeds, removing litter, etc.
This is an ambitious target for 2019, so we need lots of help! Engineering experience is not essential as there is a wide range of tasks to carry out.
The track is an enormous wrought iron forging (about 14 ft diameter) probably made by rolling to a circle which must have been joined by fire-welding, ie, both ends being heated to bright-white heat and hammered together. Excitingly we believe we have located the joint, evidenced by diagonal lines in the working face. The forging is a complicated shape, remarkably accurate and a real tribute to the craftsmen who made it in 1849. We couldn't match this quality of manual forging nowadays.
It is an amazing example of heavy forge-work which should be preserved for future generations.
We plan to work one day per month, with extra days as necessary to maintain progress. We meet on the third or fourth Saturday in each month, as follows:
Feb 16th.
March 16th.
April 13th.
May 25th,
June 15-16th. Preparations for turning
July 12-14. Trial turning
August 17th
September 14th. Doors Open Day. 21st
October 19th
Sounds like fun? No experience needed, all equipment provided, and you'll get really involved in helping to save Brunel's Other Bridge. We need your help.
Contact Geoff Wallis (jandgwallis@gmail.com) if you wish to help. We need to have an idea of numbers.
As you know, the Bridge is listed Grade 2* and is on Historic England (formerly English Heritage) Buildings at Risk Register. Whilst their funding is severely restricted, HE have been supportive in providing modest grants to carry out trials and erect a temporary roof, which were completed by Bristol City and Avon Industrial Buildings Trust with volunteer help last year.
EH/HE were impressed with the Mann Williams (MW) report that resulted from the grant-funded work that we managed on behalf of the council in 2015 and suggested that we discuss an application for further investigative work on critical areas identified in the report as part of this year's Heritage at Risk programme. They also suggested that we might request further assistance in other areas via their consultancy budget and service.
August 2018 I am pleased to tell you that the Trustees of the Bristol Visual and Environmental Buildings Trust have
agreed to contribute the sum of £10,000 for work to the turntable ring and a publicity event.
As the treasurer of the BOB project, the AIBT would like to thank the Bristol Visual and Environmental Group for a donation of £10 000 in memory of Dorothy Brown. Dorothy was for many years an indefatigable champion of the heritage in Bristol and its environs. Many historic buildings owe their continuing existence to the battles she fought for the heritage up to her death in 2013.
The organisation she founded, the Bristol Visual and Environmental Group, is now being wound up, and our project is very lucky to benefit from the residual funds being distributed from her trust by the surviving trustees.
8 April 2017 The funding period for this project on the Coop Local Community Fund finished.
We have been awarded a total of £2,135.16
We were one of more than 4,000 causes across the UK who have benefited from the Local Community Fund and are making a difference in their communities.
3 March 2017: I am pleased to tell you that the Trustees of the Bristol Visual and Environmental Buildings Trust have now visited the Bridge on the last work day. Their report and observations have been most helpful.
The Trust has agreed to contribute the sum of £4,000 as match funding to Historic England's grant.
January 2017: £19,000 by Historic England for work to allow the deck to be rotated to establish what forces will be needed to turn it after it is fully restored.
January 2017 £25,000 by Bristol City's Central, Clifton and Harbourside Neighbourhood Partnership as match-funding for lottery funding
Contracts will be let by the Avon Industrial Buildings Trust and supervised by their Technical team, comprising Bob Watkins and Geoff Wallis.
We want to thank Bristol City Council, English Heritage, the local amenity societies, our faithful hard-working volunteers, and huge number of supporters for getting the Project this far.
The big challenge lays ahead in securing major funding. We have a well-specified and costed scheme for repair which will form a sound basis for fund-raising.
You can make a donation by
The main donation link is: https://mydonate.bt.com/charities/brunelsswivelbridge.
We have created a project on http://www.neighbourly.com to also help us fund raise for our HLF bid
or you can send a cheque payable to
Avon Industrial Buildings Trust to:
The Treasurer, Thatched Wells, Duckhole, Thornbury, BS35 1LD.
Leaflet giving information, asking for support and how to make a donation
We meet on Saturday 16th February for our first workday this year, and hope to complete the refurbishment