Brunel Swivel Bridge Project Photos December 2014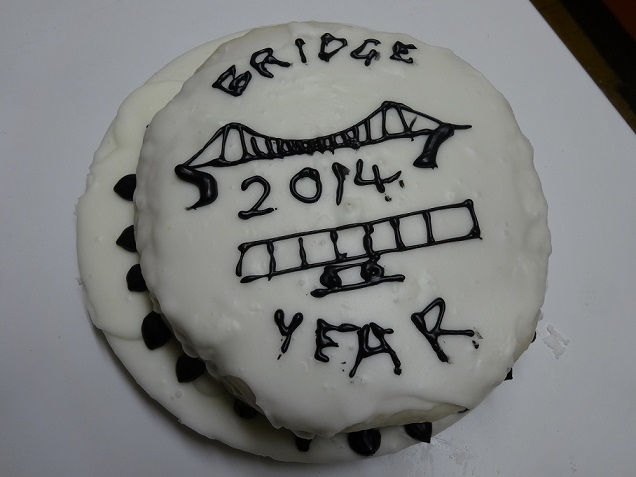 Merry Xmas!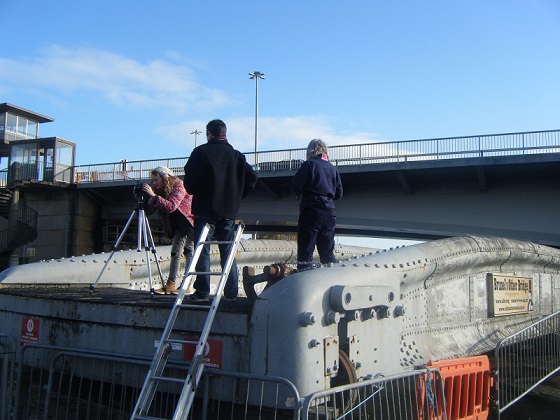 Made in Bristol TV again
Page contents
We also appeared on Made in Bristol again to advertise the coming exhibition in January in the Bristol Central Library
Details of progress in 2014 and working days.
Working on hydraulic aspects. We have a quote for stripping, inspecting, x-raying and reporting on the condition of one cylinder. The cylinder was removed, ideally by grinding/flame cutting off the existing bolts and then lifting it out with a HIAB type truck We have found that the hydraulic aspects require a level of technical input, which we have gone to experts to provide. Their scope of works will consists of providing input on the cylinder works and results, providing a performance spec for the power pack, pipework and fittings, as well as reviewing an operational strategy for if the bridge is put back into use. Their exact scope of works is difficult to quantify due to the unknown nature of the existing condition, and we are keen their price is not inflated due to the risk created by these unknowns.
As a result, we are working with the experts to make best use of the amount we have put aside from the English Heritage money for the hydraulic aspects.
| | |
| --- | --- |
| We were shown the modern hydraulics currently being used | Geoff and Dorothea working out how to remove the cylinder |
| Another view | Pressure release valve removed |
| Has suffered from frost damage. Jagged crack by stilson marks | Appying heat. At least there is room for two to work at same time |
| Undoing nut | cutting concrete platform |
| | lifted out the following week. It is now at the works of Hydra Flow in Newport for dismantling and inspection. It has suffered from frost damage. We have asked that it is back in place by mid February at the latest to comply with invoice payment deadlines. |
---