Join us
The structure is severely weakened by rust holes the size of footballs and has not been painted for decades. It continues to rust away and will eventually collapse, which may herald the end of this iconic structure.

In August 2013 volunteers carefully chiselled away the rust on the ends of the four main beams that support the 68 Tonne weight of the Bridge deck.

To our horror bucketfulls of rust fell out leaving large holes in key structure. Even the repair plates welded in to strengthen the structure have thinned dramatically and rusted away completely in many places.

Closer inspection reveals extensive loss of metal in these critical areas, making major intervention vital before the structure becomes too weak to move.

For the last two years, dedicated volunteers including many professional engineers have been thoroughly investigating all aspects of the bridge to work out exactly what needs doing to it, and get a good grasp of how much it will cost.

We believe the Avon Industrial Buildings Trust is the only organisation with the ability and will to develop a scheme in the timescale needed to save Brunel's Swivel Bridge.
Donations
PLEASE HELP US SAVE BRUNEL's OTHER BRIDGE. WE HAVE GIVEN UP OUR TIME WILLINGLY TO SAVE THIS FORGOTTEN GRADE II* LISTED BRIDGE. PLEASE HELP US BY PROVIDING DONATIONS LARGE OR SMALL.
We have created a project on http://www.neighbourly.com to help us fund raise for our HLF bid
You can send a cheque payable to
Avon Industrial Buildings Trust to:
The Treasurer,
24, The Bluebells, Bradley Stoke, Bristol BS32 8BE
Leaflet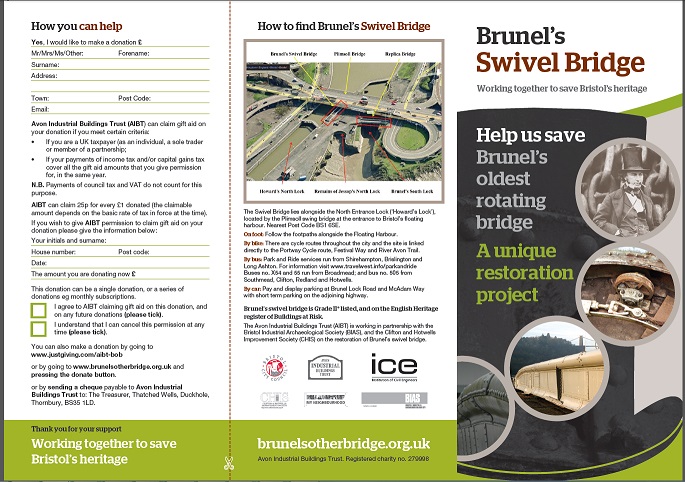 Swivel Bridge Leaflet available in the Central Library Exhibition and from the website. Leaflet gives information, asks for support and how to make a donation
Funding news is to be found on the project pages for each year
Appeal for volunteer guides
We would like train up volunteers to do guided tours. Guided tour of a site that can be seen for free can add a lot because the guide can give a special explanation that may not be immediately obvious. We do have to do education/outreach type of work as well as heavy work.
Start by working alongside us and then have a day of briefing by David Greenfield on the history, Bob Watkins on the survey and engineering, Martyn Hart/Mary Stacey on the fundraising, Geoff on the refurb so far/plans for the future.
Contact Geoff Wallis if you would like to help.
We need your help and support
Let us know how you can help eg, publicity, admin, hosting or helping on volunteer work-days.
Maybe you have memories you would like to share with us, or old photos.
Maybe you just wish to send us a message of support.
If so, please email Geoff Wallis jandgwallis@gmail.com