Brunel Swivel Bridge Project Photos July 2021
Our third work party of the year.
Faced with rain forecast at lunchtime we made good use of our time on the Swivel Bridge and surrounding area.
Julian Baldwin, Chris, John and Geoff finally beat the graffiti artists by cleaning off and repainting all the graffiti on the whole of the west face of the Plimsoll Bridge!
It looks good (see photo) but lets hope our young friends don't re-tag the clean canvas we have created.
In the south ram-pit John Willis tried out a clever extractor that he had invented to remove a broken 'tap' (threading tool) stuck in one of the holes, but it was seriously jammed.
Instead David drilled a new fixing to finally secure the broken corner of the brittle ram casting, as shown in the photo.
Meanwhile Julian Beel, Charlie and Bob continued to re-erect the ram assembly following its off-site inspection.
We have lots more to do on this and all our other BOB projects on 28th August when we next meet.
| | |
| --- | --- |
| Julian trials a Brillo pad to clean off paint | Graffiti all gone for the first time in years |
| | |
| --- | --- |
| David drilling a hole to repair a cracked flange in the ram-pit | John's clever home-made stud extractor |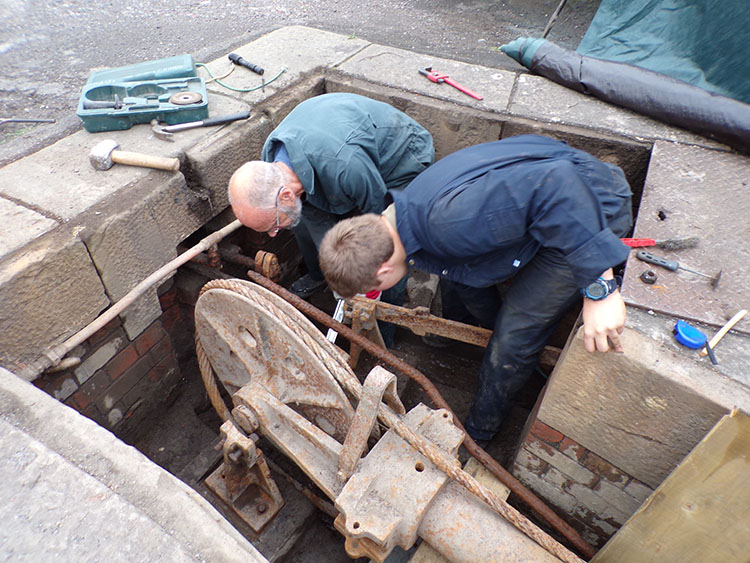 Julian & Charlie removing a cast iron pillar during reassembly of the jugger-guides