Brunel Swivel Bridge Project Photos September 2019
Page contents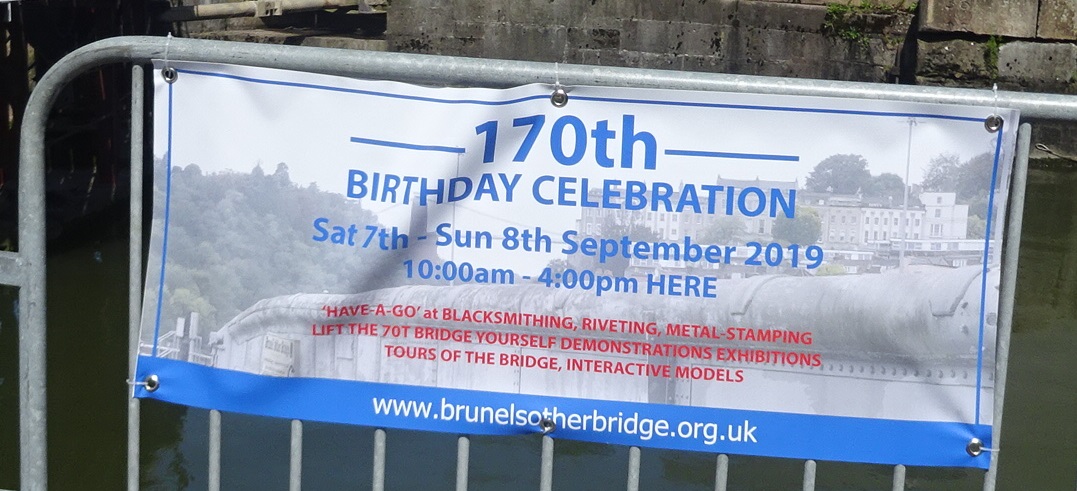 2019 170th Anniversary of Bridge
Many events happened in September including Institute of Stuctural Engineers conference on 6th in the Create Centre,
BOB's 170th BIRTHDAY CELEBRATION
Sat 7th- Sun 8th September 2019 10.00 am -4.00 pm, and Doors open Day September 14th 10-4pm

The cake

Conf Organizer Andrew Smith cuts the cake

Balance the bridge- an interesting 'ride-on' model of the Bridge which youngsters had to
balance before it could swing over a 'shark-infested' dock!

John Willis who made the balance, with a couple of our volunteers

Lift the bridge. Girl power. One daughter watches the dial while the other lifts the bridge.
Mum watches with great delight.

Stamping and Riveting. Stephen Williams our previous MP participating

Stephen Oakes Had a Go Blacksmithing

Lifting the bridge appealed to all ages

Interesting to see the gap between Plimsoll bridge and the swivel bridge now that
the bridge is no longer jacked up

The Plimsoll bridge looks like an aircraft carrier when it is open.
It swung lots of times both days, and many videoed it. We had to clear the
visitors whan it swung

Artefacts on display

David overseeing rivetting

Hydraulic Ram diagram

BOB Watkins interview by ITV News

Alessandra from Historic England being interviewed by HTV News

An elderly Mr. B meeting Julian

Mary found a new friend

Bridge adorned with birthday ribbon

HTV interviewing Geoff

Ardent fan of BOB with his tiger anorak. He visited many times and asked for
BOB to be painted on one of the Plimsoll bridge towers. Also seen is Bob talking
to Mr B, Dominic a Clifton Rocks Railway volunteer and Hamish the AIBT chairman

Even Maggie got captured

Geoff and Hamish

Overhead view

Simon and E move the Bridge, first time in over 50 years.